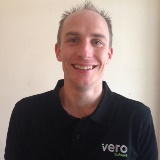 Vero Creates Partner Support Engineer Role
Vero Software have appointed Joe Gooding as Partner Support Engineer with an international remit, for four of their brands.

The role includes assisting with machine tool demonstrations, seminars, training and developing key partnerships throughout the UK, Germany and France, for EDGECAM, VISI, WORKNC and WORKXPLORE.

Wesley Tonks, Vero's EMEA Strategic Partnership Manager, says: "Joe brings considerable technical and commercial experience, and will assist in moving our key partnerships forward."

Joe comes to Vero from his position as CET Project Engineer with Seco Tools where he provided cost effective tooling solutions to a variety of manufacturing challenges. Having served an engineering apprenticeship, his other roles included manufacturing and engineering management in precision/aerospace engineering, along with sales, production and operations.

He lists cycling and keeping fit amongst his hobbies.