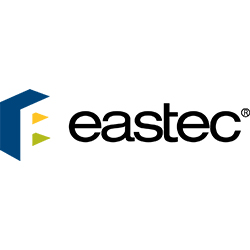 SURFCAM, Part Modeler & WORKXPLORE, by Vero Software, Presented May 16-18 by DM Solutions Inc., Booth 5446, at EASTEC 2017,
West Springfield, Mass.
The SURFCAM computer-aided-manufacturing (CAM) solution and WORKXPLORE high-speed CAD file viewer and analyzer, by Vero Software, will be exhibited May 16-18 at EASTEC 2017, hosted at Eastern States Exposition in West Springfield, Mass.
Dedicated to helping northeastern manufacturers remain competitive, EASTEC is regarded as New England's premier manufacturing-industry event. The 2017 edition offers over 500 exhibitors, as well as complimentary conference sessions, opportunities to network with peers, presentations from industry experts, and much more.
Visitors to EASTEC can learn about the time-saving technologies available within SURFCAM, SURFCAM Traditional, SURFCAM Part Modeler — a 3D modeling tool — and WORKXPLORE by visiting Vero Software reseller DM Solutions, Inc., at booth No. 5846.
Now available in SURFCAM is the Waveform Roughing strategy, a high-speed machining technique that maintains a constant tool cutting load by ensuring that tool engagement into material remains consistent. The toolpath moves in a smooth path to avoid sharp changes in direction, which maintains the machine tool's velocity.
Waveform Roughing greatly improves on standard roughing by ensuring that a constant volume of material is removed. This paves the way for high-speed machining, particularly for harder materials. Using as much of the flute length as possible distributes wear evenly along the entire cutting length, rather than just the tip. The radial cut depth is reduced to ensure consistent cutting force, allowing cut material to escape from the flutes. Tool life is extended, as most of the heat is removed in the chip.
WORKXPLORE offers a powerful combination of full-feature capabilities, high overall functionality, and speed. It was developed to increase collaboration, productivity and effectiveness in cross-functional product development, including design, process development, manufacturing, quality, sales and customer communication, purchasing, product documentation, and more.
About Vero Software
Headquartered in England, Vero Software designs, develops, and supplies CAD/CAM/CAE software radically enhancing the efficiency of design and manufacturing processes, providing its customers with exceptional value through high productivity gains and significantly reducing time to market.
The company's world-renowned brands include ALPHACAM, CABINET VISION, EDGECAM, Machining STRATEGIST, PEPS, RADAN, SMIRT, SURFCAM, WORKNC and VISI, along with the production control MRP system JAVELIN. Despite the diversity of application, these solutions have one thing in common: they all address the rising challenges of achieving manufacturing efficiencies and bring huge value to the operations in which they are deployed.
Vero has direct offices in the UK, Germany, Italy, France, Japan, USA, Brazil, Netherlands, China, South Korea, Spain and India supplying products to more than 45 countries through its wholly owned subsidiaries and reseller network.
Vero is part of Hexagon (Nordic exchange: HEXA B), a leading global provider of information technologies that drive quality and productivity across geospatial and industrial enterprise applications.
For more information, please visit
www.verosoftware.com
.
About DM Solutions, Inc.
Based in Derry, NH, the staff at DM Solutions is dedicated to helping manufacturing and design firms achieve higher profitability through state of the art software systems, training, and consulting services. In business for 30 years, DM Solutions was the first organization in the United States offering support for the SURFCAM product line.
For more information, please visit
www.dm-solutions.com