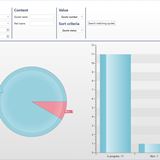 Ukraine Trade Fair Visitors To See Vero's Manufacturing Solutions
Ukraine's leading CAD/CAM distributor and engineering center is featuring systems from Vero, the world's number one CAM software company, on its booth at the forthcoming XVll International Industrial Forum in Kiev.
Soft Engineering Group (SEG) will work in conjunction with engineers from Vero reseller Dreambird to demonstrate how RADAN, VISI, SURFCAM and WORKXPLORE provide solutions to a wide range of manufacturing issues.
Visitors to its booth (G10) at the forum will see demonstrations of mold design and manufacturing software VISI; SURFCAM's mill-turn and multi-axis machining, EDM, probe and inspection support capabilities; and the latest RADAN sheet metal fabrication package; along with the powerful WORKXPLORE CAD viewer and analyser, which efficiently imports and analyses all file types and sizes at high speed.
Ada Lakevich, from Dreambird, says one of the highlights will be the first chance for visitors to see the new RADAN release – 2019 R1. "This offers different tools and methods for achieving faster results and improved efficiency.
"One of the important updates is to the Radquote module, making it accessible to a variety of departments, not just those directly responsible for programming machine tools. It achieves an accurate quote every time, providing consistency and transparency, irrespective of who is producing the quote. Radquote not only competitively calculates costing on sheet metal, but all aspects of quoting are now included – such as cutting, bending, welding, painting and assembly."
The forum runs from November 20 to 23, and is the country's largest industrial exhibition, specializing in metalworking, machine building and related fields, as well as a vast program of scientific and practical conferences, seminars and presentations.
SEG focuses on supply, implementation aspects and technical assistance for a number of industry leaders, including ANSYS, Vero Software and its parent company Hexagon. It offers engineering and hardware consultation services, technical spec calculations, software adaptation, and CAM-independent postprocessor development for any kind of CNC.
Soft Engineering Group and Dreambird, booth G10, XVll International Industrial Forum, Kiev, Ukraine, November 20 - 23.