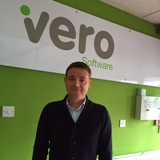 Vero Appoints New UK Sales Manager
Vero Software have appointed David Rogers as UK Sales Manager, further strengthening sales revenues, customer support and services. He joins Vero after gaining over 20 years' experience in sales leadership roles, both within the UK and international markets.

Vero's EMEA Regional Director Simon Lee says: "David Rogers' commitment and passion to achieve results in his previous roles mean he will be a very valuable asset to Vero Software's future plans. He will most certainly bring professionalism and energy, and provide team motivation and support. We are very excited to work with him."

Discussing his new role, David said: "I am very much looking forward to working with all the Vero Software teams over the coming months. While my main priority is achieving sales goals, I believe the key to this is providing excellent customer focused support and services. I'll be working hard to achieve the highest quality in this area." Initially his role oversees the EDGECAM, WORKXPLORE, VISI and WORKNC teams in the UK.

His multi-disciplined background in general management includes operations, sales and marketing divisions. He has also successfully led companies through critical times, turning around under-performing organisations and building shareholder value.

A big part of his career stems from his time at Unger Enterprises, a leading provider of innovative professional cleaning solutions. From his involvement in the 'spare bedroom' start-up of Unger UK in 1997 to doubling sales every 2-3 years, David Rogers has since added many more career highlights. This includes achieving double digit sales growth in 2005 and 2006, and, after being made the General Manager in 2009, he successfully turned the business from loss to gain in less than ten months. He was then promoted to European Sales Manager in 2012 at Unger Germany GmbH who have since secured year-on-year growth plans of 8.5% annually.