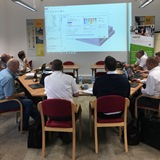 WORKXPLORE Aids Sandvik Coromant's Industry 4.0 Culture
The WORKXPLORE 3D CAD viewer and analyser from Vero Software is ensuring that Sandvik Coromant's sales engineers can individually interrogate solid models in the field.
Vero are supplying more than 30 WORKXPLORE licenses to the field-based sales engineers, and running a training program in all four of the company's UK sales regions.
Wesley Tonks, Vero's EMEA Strategic Partnership Manager, says Sandvik Coromant regard giving their sales engineers the ability to load and interrogate CAD-created solid models as a vital part of their Industry 4.0 culture.
"Previously, any data of that kind was channeled to the Design Center at Sandvik Coromant's headquarters, and the engineers had to wait for a response. But using WORKXPLORE means they can independently and efficiently analyse and communicate this extremely important information."
He says the sales engineers will find WORKXPLORE particularly useful as it contains many innovative features usually found in high-end CAD systems which enable to the user to perform part diagnostics, create assembly instructions and prepare the production of 3D models. The software was created to efficiently import and analyse all file types and sizes at high speed. It often takes less than half the time to open a file compared to the original CAD application.
And Martin Ball, Sandvik Coromant's UK Business Development Specialist, says: "The WORKXPLORE training provided by Vero enables members of the Southern Region sales force to explore and interrogate customer drawings quickly, and at a considerably higher level, without having to involve a third party at Coromant Head Office. The training material was delivered professionally and patiently by the expert Vero team, and proved to be enjoyable and engaging."