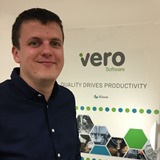 Vero Appoint Specialist Engineer To Support Machine Tool and Cutting Tool Partners
Vero Software are expanding their successful partnering arrangements with machine tool and cutting tool manufacturers, through the appointment of a support engineer dedicated to working with them.
Zoltán Tomoga joins the company from Vero's reseller in Hungary, Enterprise Communications, where he was Software Support Engineer, and has considerable experience of supporting EDGECAM customers.
In his new role he will work with EDGECAM, VISI, WORKNC and WORKXPLORE, and is looking forward to developing Vero's existing strong relationships with machine tool and cutting tool manufacturers.
He started using EDGECAM while studying for his first diploma at Óbuda University. Before graduating, he worked as a CNC mill and lathe operator as a part time job. While graduating he become a manufacturing process engineer and used EDGECAM for CAM programming parts for process control valves, at Fisher Valves.
"In 2013 I joined the Vero CAM support team at Enterprise Communications in Budapest. As well as directly supporting EDGECAM customers I was also responsible for providing EDGECAM training for beginners through to advanced 5-axis users."
While working at Enterprise, he also studied part time for his second diploma, in Mechanical Engineering, at Szent István University, where he specialized in Technical Development, and also worked on customizing the postprocessor for their shopfloor CNC machinery.
At Enterprise Communications from 2013 to 2017, through customizing post processors for 2-axis lathes up to full 5-axis machining centers, he gained considerable experience of working with a variety of machine tools and controllers, which Vero Strategic Partnership Manager Wesley Tonks says will be invaluable in his new role.